Bangladesh Water Well
By having a water well drilled in Bangladesh, you can be instrumental in bringing the life hopes of people in need to green.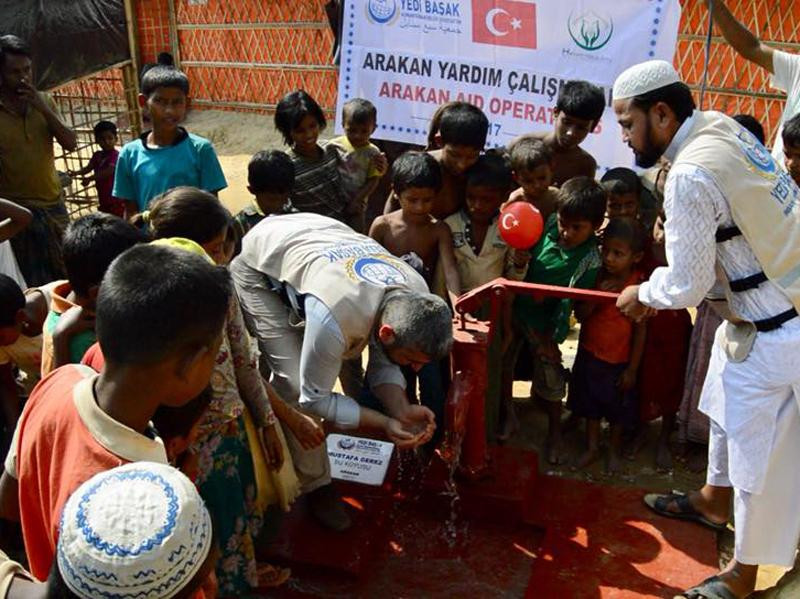 The inspection and follow-up of the water wells opened with your donations are done by our teams. In areas where water wells are drilled, responsible persons are determined and intervention is made in case of malfunction. When fault information is received from any of the water wells, repairs and similar responsibilities are carried out. Repair projects are carried out for the malfunctions detected in water wells that have exceeded 3 years as a result of the inspections.

Specialty water wells are built only in areas and situations where drilling a water well does not meet the needs. These wells are often built integrating with storage, plumbing, intermediate materials, carrier engines and similar equipment.
Sometimes an orphanage's bath, sometimes a mosque's fountain, sometimes meeting the irrigation needs of agricultural land or different difficulties, these structures are built to meet the needs of the region at once and completely. Although the conditions and costs of special water wells differ each time, they are among the most needed projects.
In order not to encounter any health problems due to substances such as arsenic and cyanide, water samples are taken from each well drilled and water analysis is performed in the laboratory environment. According to the result of the report, if the water to be obtained is suitable, the water well is opened for use.

Water well works take about 1-3 months. This period may vary depending on the region and the problems that may occur in that region.

One out of every 10 people in the world does not have access to water. Drought, poverty, rapid population growth and pollution threaten clean drinking water resources. In our world where billions of people do not have healthy water, mass diseases are increasing day by day. If serious and feasible measures are not taken to reduce clean water resources, the dangers that people face will increase even more. As Yedi Başak, we are working to ensure that millions of people around the world who suffer from water shortage problems have access to clean water to meet their every need. At the beginning of these works is to open water wells or specialty water wells in areas of need.

The countries where Yedi Başak drill water wells are determined according to needs. In this context; Chad, Ghana, Cameroon, Niger, Senegal, Ethiopia, Tanzania, Uganda, Niger, Nigeria, Gaza and Yemen are among the regions where Yedi Başak conducts water well studies. Our association may change from time to time in countries and regions. Before choosing a region to have a water well drilled, you should contact the authorized Yedi Başak personnel by calling 553 886 7777.